Article List
PDFs
Vocabulary Files
Working with Pages
Settings
Troubleshooting
Features
Head Tracking Settings
It is important to adjust the head tracking settings in the LAMP WFL software to work best for the individual who will be using it.
Important! Because head tracking depends on the user's head movement capabilities, these instructions only cover the setup basics. You may need to refine your settings several times. We suggest changing one setting at a time.
To change a setting:
Choose Menu - Settings
Turn on Enable Head Tracking
Under Head Tracking, select the settings you want to change. A list of options will be displayed.
Select the options you want.
Choose Done.
For a full explanation of all the head tracking settings, please refer to pg 67 of the LAMP WFL User Guide.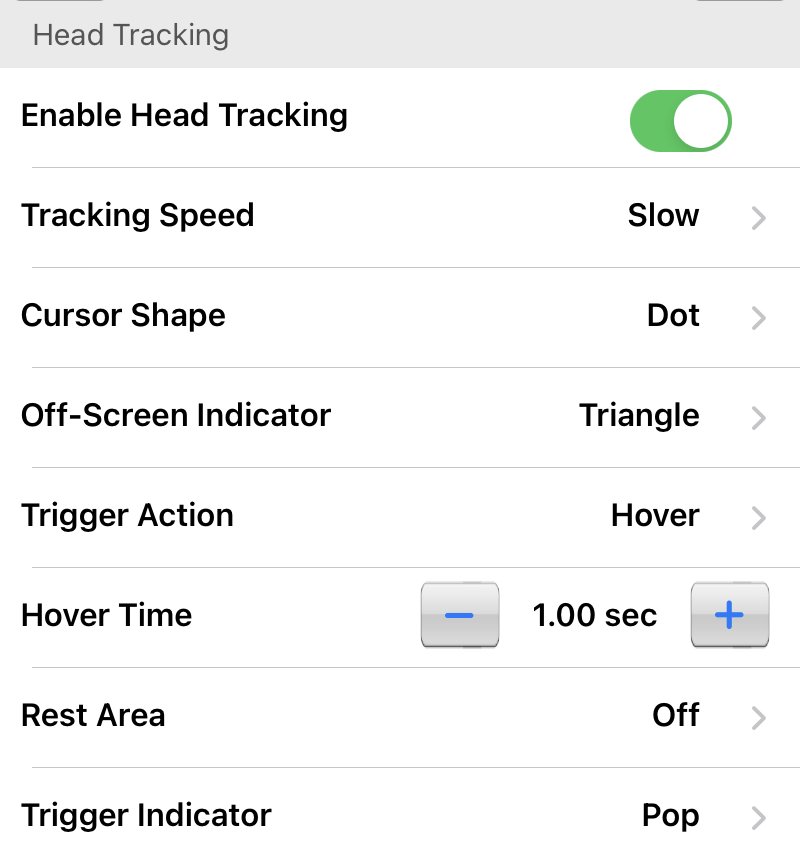 Compatible head tracking devices:
iPad (9th generation)
iPad (10th generation)
iPad Pro 12.9-inch (3rd generation)
iPad Pro 12.9-inch (4th generation)
iPad Pro 12.9-inch (5th generation)
iPad Pro 12.9-inch (6th generation)
iPad Pro 11-inch
iPad Pro 11-inch (2nd generation)
iPad Pro 11-inch (3rd generation)
iPad Pro 11-inch (4th generation)
iPad Air (3rd generation) running iOS 14 or higher
iPad Air (4th generation) running iOS 14 or higher
iPad Air (5th generation)
iPad mini (5th generation) running iOS 14 or higher
iPad mini (6th generation)