Products
Devices
You might qualify to get this app on speech-generating device paid for by insurance!
Those that lack full verbal communication may qualify to receive a speech-generating device, pre-installed with the LAMP Words for Life® app, and have it partially or fully funded by private insurance, Medicaid or Medicare, or a combination of these. Typically, an AAC evaluation and a physician's prescription are required. PRC-Saltillo offers both iOS and Windows-based speech-generating devices along with unmatched support from PRC-Saltillo's network of speech pathologists, special educators and AAC specialists.
Via® Pro: Designed for Communication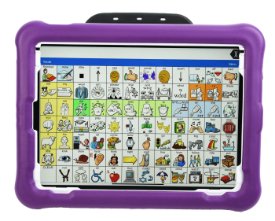 The Via Pro iOS speech-generating device offers the familiarity iOS lovers prefer. It's powerful, easy-to-use and intuitive, right out of the box.
The Via Pro is:
Powerful. Built on the processing power of iOS, it's designed for communication – and beyond.
Durable. Either wrap (Active or Classic) and the sturdy handle and stand, ensure lasting durability. The splash-resistant design meets or exceeds all federal standards for durable medical equipment.
Accessible. The Via Pro offers an 11" screen with for direct touch or wired and wireless switch compatibility.
Dependable. The Via Pro comes with PRC-Saltillo's two-year warranty.
PRiO Mini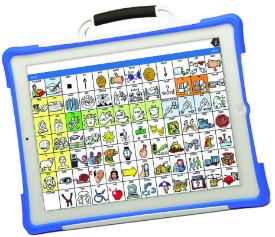 The PRiO Mini offers:
7.9" screen
Protective case with: Amplified speakers for improved speech output, headset jack, two switch ports
Two protective rubber boots: one black (installed on device) and one blue
Carry handle and kick stand
Shoulder strap
84 location keyguard