Products
Accessories
Chat Wrap
ChatWrap Series amp case creates a usable and protective solution for individuals using iPad (Air® 2, iPad Pro® 9.7 and iPad® gen 5/gen 6). The rubber boot and shell provide the protection while the Bluetooth handle amp delivers high quality speech output for the communicator. A blue and a black rubber boot comes standard so you can choose which one suits your mood. A keyguard that flips up for easy programming and snaps in place for use is available. Learn More.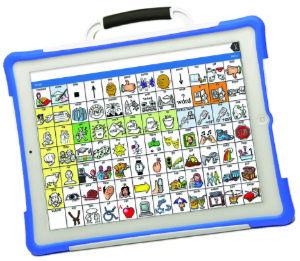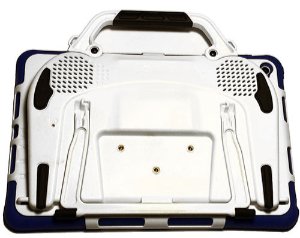 Keyguards
We recommend using keyguards to support access of an AAC device. Keyguards help prevent unintentional activations on touch activated screens, provide visual spatial cues and promote pointing. Keyguards are available for all PRC devices (Accent, ViaPro, and PRiO Mini). When purchasing over-the-counter cases to protect your iPad, the keyguard must be designed to match that case. Keyguard Assistive Technology offers keyguards customized to the specific case you are using. Learn more
Aeroswitch
For those who access their communication device using a switch, PRC-Saltillo offers Bluetooth-compatible, wireless switch. It is compatible with most devices running iOS using Bluetooth 4.1 or higher.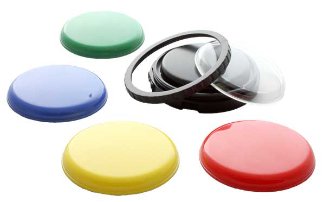 The AeroSwitch offers a host of options:
Use it as a hub. Two switch jacks allow AeroSwitch to be used as a hub for other, wired switches.
Use with other AeroSwitches. Depending on your device, use up to three AeroSwitches for a variety of access and selection options.
Use it inside communication software…or outside. AeroSwitch comes pre-programmed with common keyboard commands that work with a variety of devices, software programs and apps.
Even more, AeroSwitch comes with a choice of color caps to accommodate a wide variety of visual preferences. Or personalize it! Select the clear cap and add your favorite stickers, photos…make it yours.
At a convenient 2.99" (76mm) diameter x .8" (20mm) height, its "just right" size makes it ideal for multiple placements. And the battery is easily replaceable, to keep you going without a long replacement process.
AeroSwitch offers all this for only $199.